Butts-Mehre Renovation at UGA
Introduction:
DCO Commercial Floors was recently involved in the renovation and addition of one of the nation's premier athletic facilities to set a benchmark as a flagship facility in the country. The Butts-Mehre Heritage Hall renovation project started with an expansion of an existing in-use building where the facilities are used 24/7/365 by the personnel and athletes. Two separate phases of work were completed for the University of Georgia Athletics Department that included working in areas where our teams were required to sign a nondisclosure agreement (NDA). We had to accommodate the Owner's ever-changing schedule and tight construction deadlines with DPR Construction to turnover the project. Phase 2 was just recently completed and involved the renovation of an existing space after the Football Operations crew and players were able to move into the phase 1 addition.
DCO's project scope included everything from a new weight room, medical treatment facilities, hydrotherapy and pool rooms, and offices for staff. The project added 136,300 square feet of new space and renovate 28,700 square feet in the existing part of Butts-Mehre.
History:
Butts-Mehre, named after two former UGA football coaches, has housed UGA athletic administrators and football operations since 1987, with some renovations and smaller additions in the more than 30 years since it opened. Nestled between the UGA running track, the existing Butts-Mehre building, and the football team indoor practice field, the project will include new offices for an expanded football coaching staff, more and larger meeting rooms, a much larger weight room, and an expanded sports medicine area, including sensory deprivation chambers.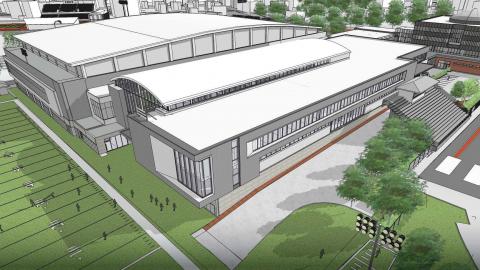 Expansion Plan:
The UGA Butts-Mehre Heritage Hall expansion and renovation provide a state-of-the-art, comprehensive facility for the Football Program. The original building imagery with the iconic black curtain wall rising out of the granite plinth remains clearly legible in this sensitively composed expansion weaving together existing and new while accommodating multiple performance objectives.
Accommodating the multiple needs of a nationally ranked NCAA Division I Football team in the 21st Century requires a functionally specific, nimble facility. On any given day, Butts-Mehre Heritage Hall serves as a:
Museum for the fan base.
Fundraising inspiration for proud alumni.
Story-Telling opportunity to preserve the Bulldog tradition.
Recruiting tool for future players.
Teaching/strategy building spaces for both the coaches and the team.
Consolidated destination for football practice and training.
To read our most recent blog post, click here:
To learn more about the Butts-Mehre Heritage Hall Renovation, click here:
About the firm: DCO Commercial Floors is a nationwide flooring dealer that is committed to being a flooring solutions leader for all finishes, bridging the gap between traditional floor covering and modern access flooring solutions. We provide comprehensive project management so that your project is smooth from the estimating stages to breaking down the bid, and procurement, from installation to closeout. DCO will provide and deliver on all facets to become the partner of choice for your project.