Scheduling & Supply Chain Challenges
Published by Eric Greenfield, August 8th, 2022
Introduction:
The covid-19 pandemic took a toll on everyone, especially those in the commercial construction industry. Scheduling projects, getting materials ordered and delivered on time, and dealing with the repercussions of a project going south, are all factors that many commercial construction crews dealt with these past couple of years. Finding ways to successfully create projects that are up to the standard of the customer becomes difficult when you run into these problems. Eric Greenfield, one of DCO's seasoned project managers, gives insight into his experience dealing with scheduling and supply chain challenges and how to combat these issues to continue building effective relationships with your project teams.
Pre-Supply Chain Collapse:
Before the supply chain collapse, project managers were able to get the necessary materials without crazy lead times, deliver on schedule, and maintain healthy working relationships with clients and vendor partners accordingly. Projects and job sites were relatively free from major commercial industry issues, and schedules that ran smoothly were effective in their timing and finished product. 
The Collapse:
One of the earlier signs of supply chains struggles was the increasing material costs of critical construction materials: steel and lumber. The industry saw pricing escalating and due to pricing and availability, these costs continue to negatively impact both construction companies and potential owners seeking to hire the construction companies for new projects. This remains to be a top concern among contractors with 62% of contractors stating less availability of building products and materials as a result of COVID-19 is a concern.
Sudden price fluctuations can dramatically impact companies who just have just recently won a bid or were [in course of construction] using a lower rate. In this instance, when the pandemic and the resulting supply chain issues hit, it is likely that original budgets were going to be affected and would cause over runs on projects due to new pricing on various materials.
When the supply chain collapse first started we faced difficulty in many areas. Project schedules became harder to maintain, and lead times rose exponentially, along with shipping rates. Commercial construction work competes with residential for the right materials, adding in another factor: home improvement stores. 
The graph below shows PPI Commodity Data for Inputs to Non-residential Construction from 2015-2021. "Construction material prices have been steadily rising since 2015, and in the last several months, the market has seen a spike in prices for key materials. According to the Construction Inflation Alert by Associated General Contractors of America (AGC) the United States' producer price indexes (PPI) for new nonresidential construction materials rose by a record 24.1% from June 2020 to June 2021. 
Overall, the increase to the PPI for commercial structures rose 20.7% throughout 2021." All this to understand the importance of creating projects that are built for success. Labor shortages, increased demand, limited shopping containers, and much more have caused a halt in our ability to buy product, at the time we need, delivered at the time we need.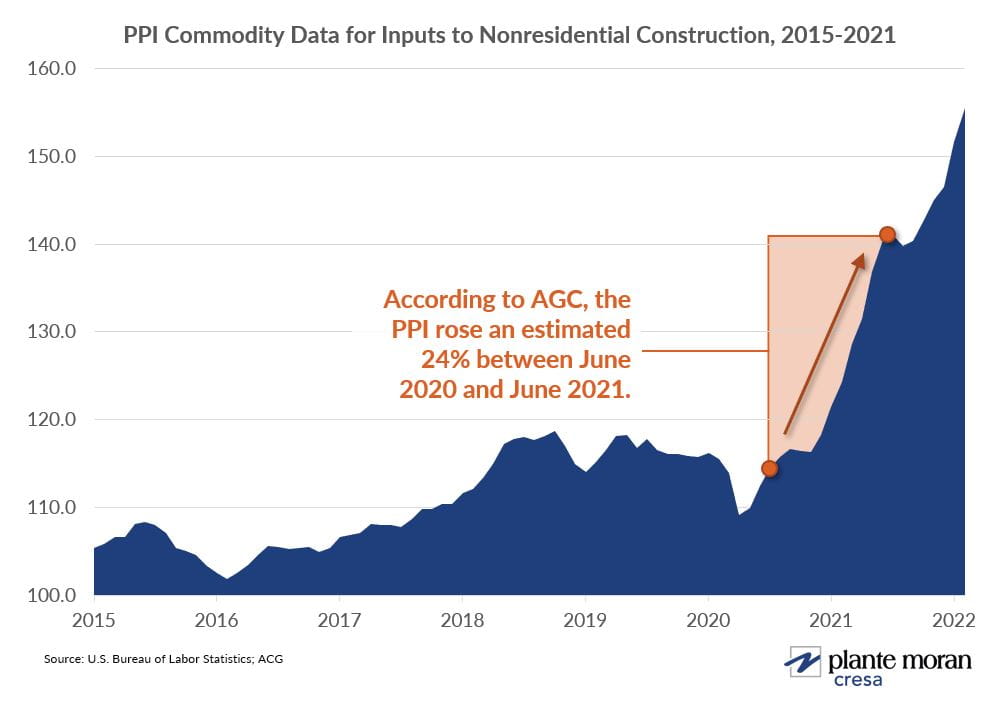 Mitigating Supply Chain Collapse: 
The best way to combat the ever-changing commercial construction environment is to look at the processes put in place and help create procedures to help structure handling problems. Being able to adapt especially as a project manager, is vital to the success of the project.
#1 Effective Communication: 
Creating and maintaining relationships where your effective communication is important. Keeping up to date records and making sure everyone on the project team is aware of the challenges will allow for the time to make better decisions, reduce tension, and boost the long-term relationship itself. All of this starts with a project manager and trickles down to the whole team. Creating processes so that all parties involved will help manage expectations and roles. Proper equipment schedule for deliveries helps keep everything running smoothly and keep the project running smoothly. 
Executing mitigation strategies starts in the planning phase of the project. By starting these implementation plans before you run into issues, you will save budget, stress, and overall tension with the client. Some examples of market risk issues are shown below:
Labor shortages — Labor shortages are a major factor in why construction across the nation is experiencing delays. There are labor shortages at the manufacturing level, labor shortages with truck drivers to get materials to the site, and labor shortages in the field to install the materials. All of these have a compounding impact on a project.
Location of your project — Project costs can significantly increase if the local work force cannot support the needs for your project. A workforce premium (travel, lodging, transportation, meals, etc.) could be added to a project if out-of-area trades are deployed. Local work force partnerships — In an effort to avoid major project impacts and delays, it might be necessary to inform subcontractors and material suppliers about your project early to lock in pricing, labor, or other resources needed for your project.
Existing construction or development projects — Major construction projects may tie up larger subcontractors for several months, which could limit workforce availability for other projects.
Authority having jurisdiction (AHJ) — Many state and local approval agencies are overwhelmed with plan reviews, permitting, and inspections. This can cause significant project delays.
Availability of materials and resources — Materials are generally sourced locally as much as possible to reduce exposure on delayed deliveries. In today's market, delays are common when teams are outsourcing their materials on a national level.
Processes need to be established for logistical operations. According to the Council of Supply Chain Management Professionals, logistics is:
The process of planning, implementing and controlling procedures for the efficient and effective transportation and storage of goods, including services and related information, from the point of origin to the point of consumption for the purpose of conforming to customer requirements.
Are these processes documented and understood throughout your organization? Have team members been trained on these processes? Team members also need to update the processes as business and customer needs evolve and require continuous improvement.
By creating these processes during a collapse, not only are you better prepared for the present, but you are better prepared for the future of all project planning phases.
The Future of the Supply Chain:
While we do not know what the future of the supply chain looks like, we know that labor shortages, freight problems, and inflation will continue to manifest themselves in a post covid-19 world. By creating the proper processes for effective communication, risk mitigation, and logistics support, commercial construction will be properly prepared for the future. In a world that is constantly evolving, adaptability and transparency in a project manager are two key traits that will continue to create projects built for success.
In short, the data imply that construction firms are paying record-breaking sums for generally unexceptional levels of physical inventory. More importantly, the inflation-adjusted quantities of inventories, new orders, and unfilled orders point to an industry that has already significantly changed its inventory and order behavior since the start of the year; the change just happens to be cloaked by the rapid rise in inflation.
As firms move forward in this industry, it's important to have an understanding of the supply chain and its ever-changing environment. By creating better processes for the future, we can continue creating projects built for better.
To learn more about supply chain challenges, click here:
To learn more about our work with Graydon Buckhead, click here:
To learn more about our work in healthcare, click here
About the Author: Eric Greenfield has been in the construction industry for just over 4 years. After serving in the United States Marine Corps for 4 years, Eric attended Clemson University to study Business Management. During his time there he was recruited by DCO as a Site Superintendent to learn the industry. After spending a year on site Eric moved to preconstruction working as an estimator to familiarize himself with that side of the industry. After 9 months he moved back to course of construction work as a project assistant. Within the next year and a half, he elevated from Project Assistant to Assistant Project Manager to project manager with a leadership position.  Eric is a CIM and OSHA 30 certified. Email: egreenfield@dcocf.com
About the firm: DCO Commercial Floors is a nationwide flooring dealer that is committed to being a flooring solutions leader for all finishes, bridging the gap between traditional floor covering and modern access flooring solutions. We provide comprehensive project management so that your project is smooth from the estimating stages to breaking down the bid, and procurement, from installation to closeout. DCO will provide and deliver on all facets to become the partner of choice for your project.